20 E 46th St Rm 1301
New York, NY 10017
Cosmetic Dentistry for Porcelain Crowns: Unlock Your Most Confident Smile with Sachar Dental NYC
What are Porcelain Crowns?
Porcelain crowns are a durable, effective, and cosmetically appealing solution for many dental issues. These dental restorations are custom-made to fit over a tooth, restoring its shape, size, strength, and enhancing its appearance. Porcelain crowns mimic the natural tooth enamel, making them the ideal choice for a cosmetic makeover of your smile.
Why Choose Porcelain Crowns?
Porcelain crowns stand out in cosmetic dentistry for a plethora of reasons. First, they provide a natural tooth appearance and blend seamlessly with your existing teeth. They are also incredibly durable and resistant to staining, ensuring that your smile remains bright and beautiful for years to come. Not only do they improve your smile's aesthetics, but they also protect damaged teeth, ensuring that your oral health remains top-notch.
The Process of Getting Porcelain Crowns
The process of getting a porcelain crown at Sachar Dental NYC is a painless, straightforward procedure. It generally requires two visits. On your first visit, your dentist will examine and prepare the tooth receiving the crown, take a dental impression, and place a temporary crown.
On your second visit, your customized porcelain crown will be fitted and bonded to your tooth. The crown is adjusted to ensure it fits perfectly and feels comfortable in your mouth. Throughout the process, our team ensures you are comfortable and fully aware of each step.
Maintaining Your Porcelain Crowns
Once you have your new porcelain crowns, you'll want to keep them looking their best. Good news is, maintenance for these crowns is not significantly different from your natural teeth. Regular brushing and flossing, coupled with routine dental check-ups, can ensure the longevity and performance of your porcelain crowns. At Sachar Dental NYC, we provide comprehensive post-procedure care instructions and offer regular professional cleanings and check-ups to monitor your oral health and crown condition.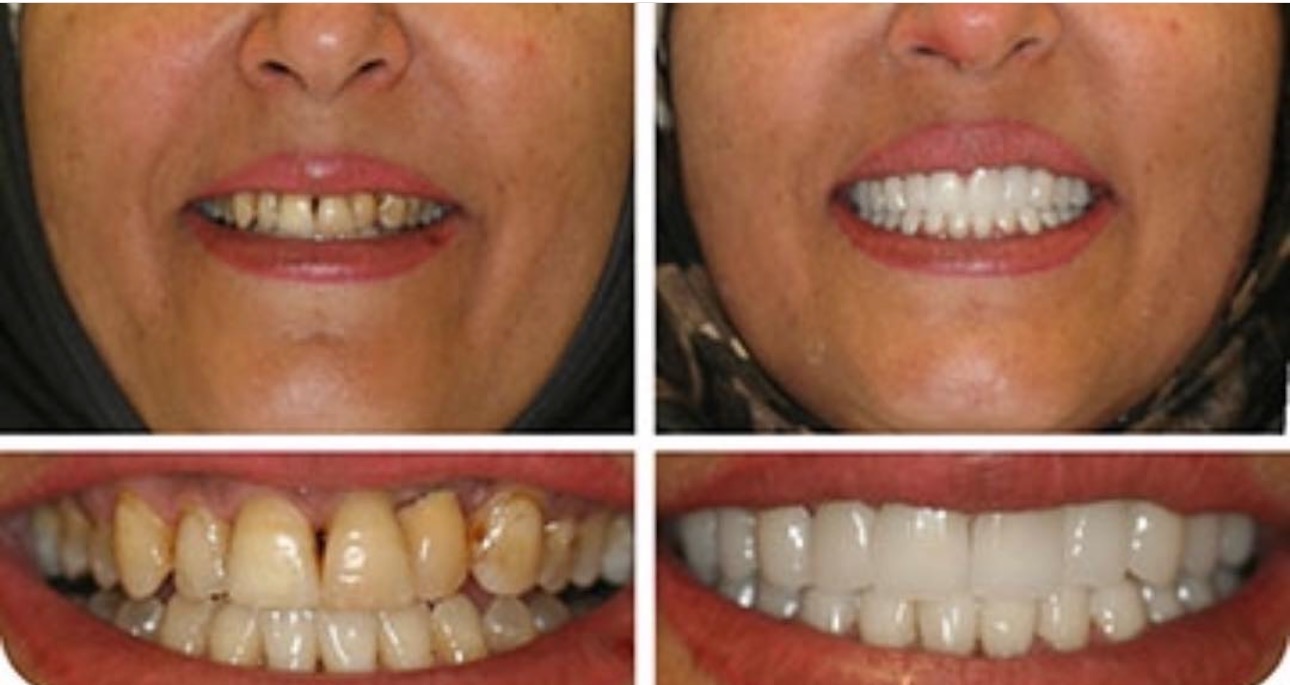 Cost and Insurance Coverage for Porcelain Crowns
The cost of porcelain crowns in New York City depends on the type and quality of the porcelain, the dental laboratory used, and the complexity of the procedure. At Sachar Dental NYC our porcelain crown fee is fair and affordable. We provide transparent pricing and work with most major PPO insurance providers. During your consultation, we'll provide an estimate of the cost and can help you understand your insurance coverage and options.
The Impact of Porcelain Crowns on Your Life
The transformation offered by porcelain crowns extends beyond dental health and aesthetics. A beautiful, healthy smile boosts your confidence and can positively impact your personal and professional life. Patients often find their social interactions enhanced and their self-esteem significantly improved after the procedure. By choosing Sachar Dental NYC for your porcelain crowns, you're investing not just in your smile, but in your overall quality of life.
Why Sachar Dental NYC is the Best Choice for Porcelain Crowns in New York City
Choosing where to get your porcelain crowns is as crucial as the decision to get them. At Sachar Dental NYC, we are committed to offering top-quality cosmetic dentistry services, and porcelain crowns are no exception. Our team of expert dentists, led by Dr. Sandip Sachar, brings a wealth of experience and a meticulous approach to every procedure, ensuring optimal results.
At Sachar Dental NYC, we use state-of-the-art technology and the most advanced techniques in the field. Each porcelain crown is custom-made to provide the most natural look and fit. We understand that each patient is unique, and we personalize our care accordingly.
Beyond technical expertise, we pride ourselves on creating a comfortable, stress-free experience for our patients. From the moment you walk into our office located in the heart of New York City, you'll feel welcomed and cared for.
Make Your Appointment Today!
Ready to unlock a more confident smile with porcelain crowns? Your journey to a healthier, brighter smile begins with a consultation at Sachar Dental NYC. Our team is ready and eager to answer your questions and guide you through the process.
Trust your smile to the best dental practice in New York City. Contact Sachar Dental NYC today to schedule an appointment with Dr. Sandip Sachar or one of our other highly skilled dentists.
Sachar Dental NYC
20 East 46th Street
(Between 5th Ave & Madison Ave)
New York, NY 10017
212-752-1163
Copyright © Sachar Dental NYC 2023 All Rights Reserved